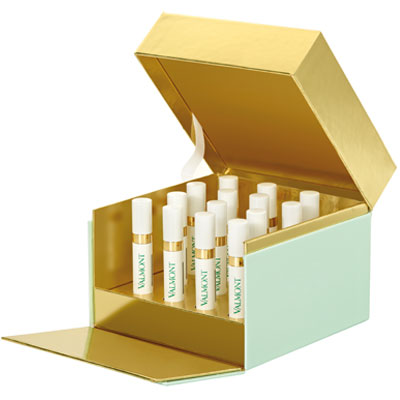 Time Master Intensive Program
For skins suffering from fatigue and marked by signs of ageing. For all skins at the change of seasons. To prolong the results of plastic surgery.
Active ingredients:
Complex of hyaluronic acid of high and low molecular weight - The part of high molecular weight creates a hydrating film which fills the dehydration fine lines on the skin surface. The part of low molecular weight penetrates in the deeper layers of the epidermis and retains water in the cells.
DNA liposome - increases by 300% the penetration of Triple DNA. Delivers the strong hydrating ad regenerating properties of Triple DNA all the way to the live epidermis. Provides fatty acids to reinforce the intercellular cement.
RNA liposome - stimulates the aktivity of the DNA. Brings the urea that is essential to the NMF. Provides fatty acids to reinforce the intercellular cement.
Use:
Mornings and evenings: apply 5 pump pressures on the face and neck. Spread the product on both hands and apply, from the center of the face outward, with ascending and smoothing motions. Continueto to apply with ascending motions on the neck and decolette. After complete penetration of the product, apply light pressures simultaneously on the chin and forehead then on the cheeks. Then apply the adequate cream for cutaeous needs. To use as a 28 day treatment and repeat every 3 to 6 months.
14x3 24 900,-Kč