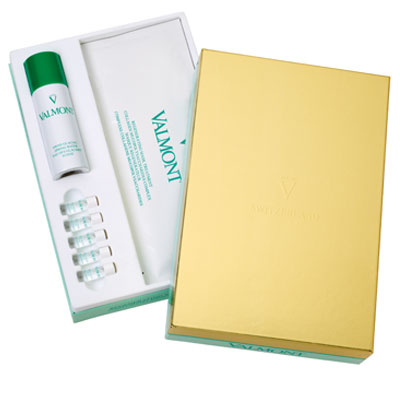 Regenerating Mask Treatment
Any skin, particularly skin showing visible signs of ageing or after sun exposure.
Active ingredients:
Native collagen - dermo-tensor. Reinforces the cutaneous firmness and elasticity. A powerful moisturizer which produces a tensing effect, improving skin firmness, smoothing out fines lines and wrinkles and soothing the skin.
PRECURSOR COMPLEX - hydrating agent that acts on skin elasticity and tone
POST TREATMENT VIAL (Amino acids of collagen) - completes and seals the collagen effect.
GLACIAL SPRING WATER - Perfectly absorbed by the skin´s structure owing to the occlusive effect of the mask, helps stimulate cell metabolism.
Use: One a month for a preventive action. 2 to 3 times for a corrective action. After thorough cleansing, spray whole face with Glacial Spring water. Separate the collagen mask from its plastic backing. Fit the mask around the eye area, then very gently stretch it to cover the sides of the face. Eliminate the air bubbles. Leave on for at least, then remove. Apply the POST COLLAGEN vial.
5ks 11 500,-Kč